VOI Management of Toy Breed Dogs Stifle Disease Workshop
Course
Enrollment for this course is currently closed.
About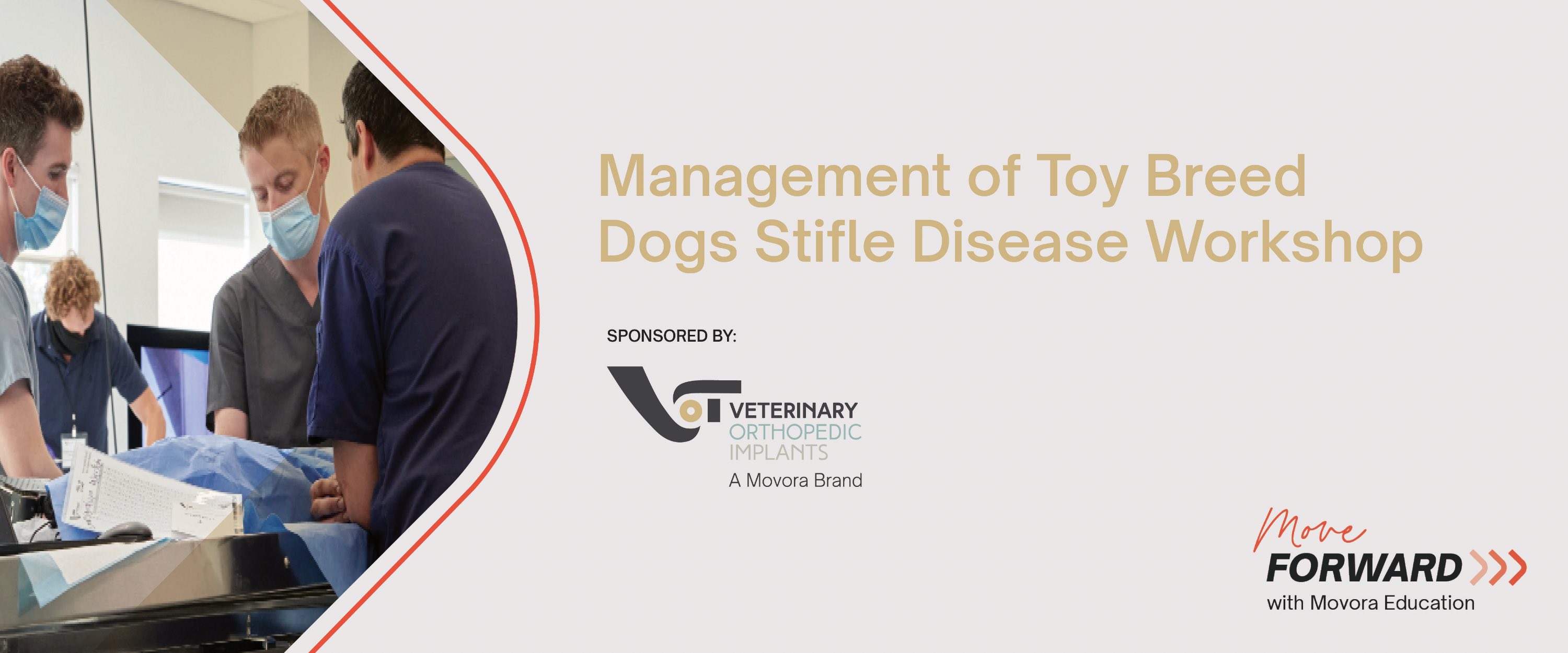 Join this Movora sponsored workshop on January 16th for the Management of Toy Breed Dogs Stifle Disease workshop presented by VOI at the VMX in Orlando, Florida!
This full-day workshop will teach participants intra-articular pathology associated with CrCL.
Instructors
INSTRUCTOR
Dr. Don Hulse, DVM, MS, DACVS
INSTRUCTOR
Dr. Mike Kowaleski, DVM, MS, DACVS
INSTRUCTOR
Dr. Brian Beale, DVM, DACVS, ACVS, Fellow, MIS
Workshop Description
Toy breeds of dogs often will present with acute onset lameness secondary to complete cranial cruciate ligament rupture. Upon physical exam, the stifle is very unstable with a Grade 2-3 patella luxation aggravated by the presence of excess internal rotational instability due to the CrCl injury. To return the patient to normal function, the CrCl injury must be addressed (stabilized) as well as the patella luxation.
Workshop Objectives
This hands-on surgical workshop will teach attendees intra-articular pathology associated with this condition, diagnostic criteria, an isometric extracapsular procedure that allows joint evaluation and stabilization of the patella luxation and the craniocaudal laxity; how to implement a post-operative rehabilitation program, and common complications and appropriate management of complications should they occur.
Prerequisites
This workshop is appropriate for specialist and general practitioners who have an interest in improving their orthopedic knowledge and skills.
CE Credits - RACE Approved
This workshop will meet the requirements for 8 CE hours of continuing education credits in jurisdiction which recognizes AAAVSB RACE approval.
Movora provides all equipment and materials for each workshop.
Location




Address
Rosen Centre Hotel
9840 International Dr,
Orlando, FL  USA