VOI Canine Knee: Anchored Excap Suture Stabilization & Patellar Luxation Workshop
Course
About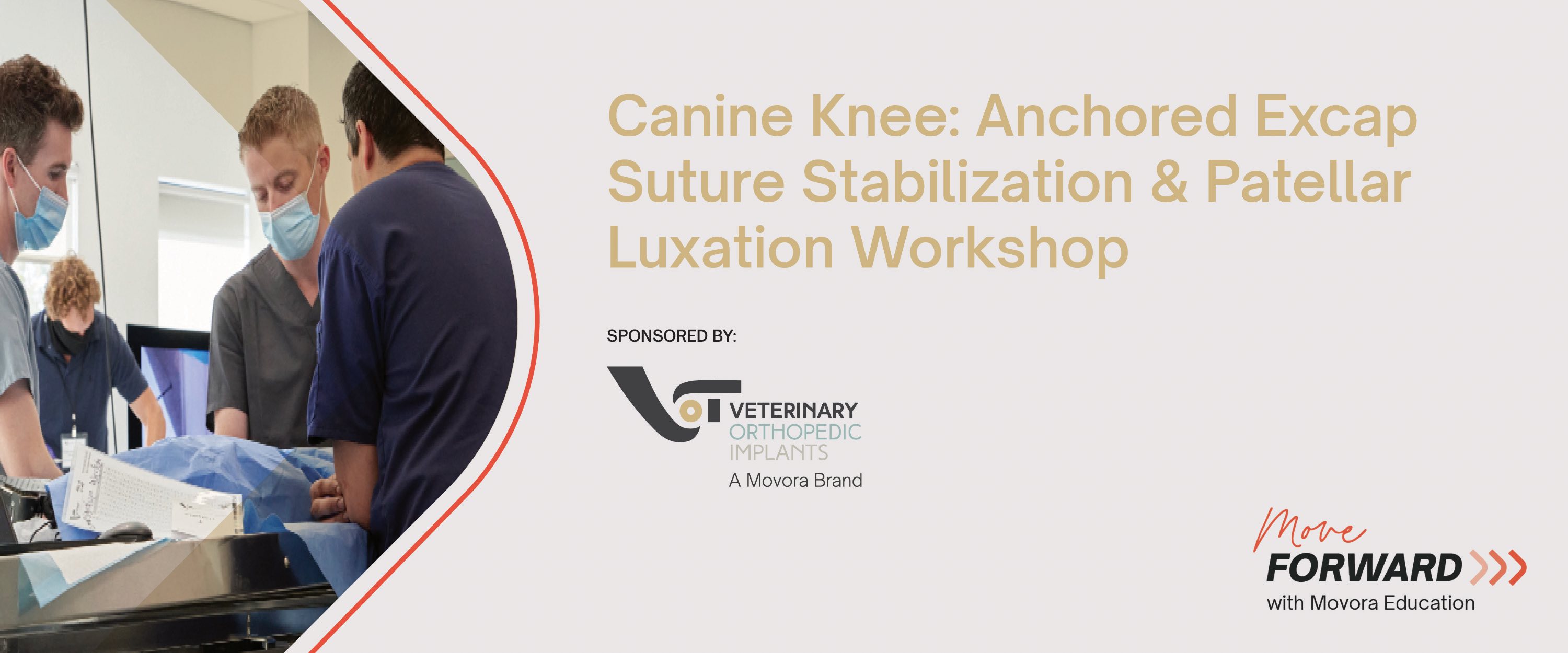 When does it make sense to offer an Anchored Extracapsular Suture Stabilization? Learn TODAY!
Join this Movora sponsored workshop on January 24th - 25th for the Anchored Excap Suture Stabilization and Patellar Luxation workshop presented by VOI at the Translational Medicine Institute in Fort Collins, Colorado!
This two-day workshop will allow participants to understand CrCL disease and patellar luxation.
General Vet Registration: $1,995
Board Certified Surgeon Registration: $1,995
Instructors
INSTRUCTOR
Dr. Ross Palmer, DVM, MS, DACVS
INSTRUCTOR
Dr. Kenneth Bruecker, DVM, MS, DACVS, DACVSMR
Workshop Description
In this course, you'll be trained to diagnose CrCLD as well as detect "the silent ExCap assassin" co-morbidities that will help you to steer clear of danger and client disappointment.  You'll learn to honestly educate your clients about the treatment options and their outcome with a simplified breakdown of the latest research.  You'll learn the risk factors for medial meniscal injury as well as how to visualize, probe and treat meniscal tears.  You'll get hours of hands-on training (both plastic bones and cadaver specimens) to help you get your suture anchors in just the right spot and your suture tension just right.
Workshop Objectives
When it comes to patellar luxation, our friendly "no attitude" faculty will give you tips and technique nuances that you'll never find in the textbooks like: 
How to pick the winners (why grade 1-2 luxation is a different disease than grade 3-4 luxation)

 

How to decide if your patient needs a trochleoplasty (and what the dimensions should be)

 

How to decide if your patient needs a tibial crest transposition (and a handful of tricks to make it easier to perform) 

 
You'll return to your practice with a whole new and updated understanding of CrCL disease and patellar luxation.  You'll be eager to offer surgical treatment when it makes sense for your patient & client … and you'll be wise enough to avoid those cases for which the predicted outcome is sketchy.
Prerequisites
This workshop is appropriate for specialists and general practitioners who have an interest in improving their orthopedic knowledge and skills.
CE Credits - RACE Approved
This workshop will meet the requirements for 24 CE hours of continuing education credits in a jurisdiction that recognizes AAAVSB RACE approval.
Movora provides all equipment and materials for each workshop.
Location




Address
Translational Medicine Institute
2350 Gillette Drive
Fort Collins, CO 80523